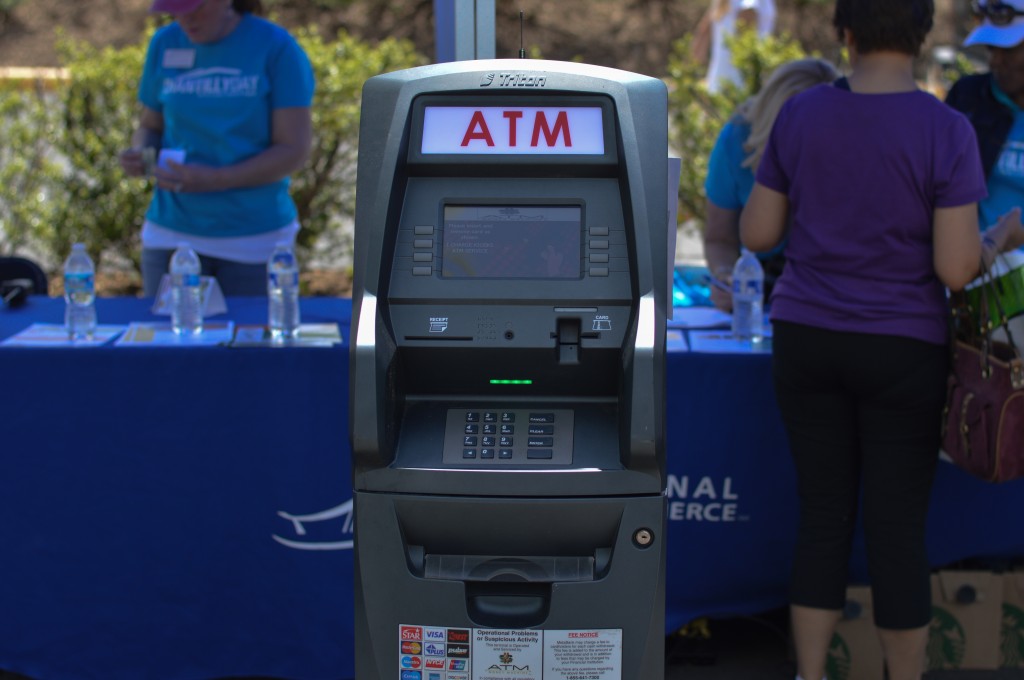 ATM RENTALS
Event Rentals DC is proud to offer ATM rentals for all types of events in Washington DC, Virginia and Maryland.  No matter how big or small your event is, we will makes sure to provide the cash, stock, and service the ATM for the duration of the event.  Our cash management system helps ensure that your ATM rental will not run out of cash for the duration of your event, and we personally work with every customer to ensure that your ATM remains secure.  We have provided an ATMs to events such as Washington City Paper's Crafty Bastards, Taste of Falls Church, Hill Country Backyard BBQ, and more. We will even go so far as to provide a free ATM with your qualifying tent rental.
ATM rentals are an incredibly effective way to generate cash flow to your event, whether it's a festival, event, concert, farmer's market, craft show, or wine tasting. ATMs help to solve a fundamental problem present at many events where vendors only accept cash, and attendees only have credit cards on hand. By having an ATM on site, you can solve these problems and dramatically increase the solvency and convenience of your event!
Event Rentals DC uniquely operates brand new ATM machines due to our strict annual turnover policy, which ensures that we have only the newest and most reliable inventory to offer our clients. Our ATM rentals offer a large 7" LCD display for easy reading, upgraded double capacity cassettes (which decrease ATM downtime), and the ability to be powered by a standard generator. In addition to profit-sharing options, we also provide individualized ATM branding and ATM sponsorship options to fit your preference and convenience.
ATMs Are Great For:
-Festivals
-Events
-Concerts
-Farmer's Market
-Craft Shows
-Beer and Wine Tastings
Why Use An ATM?
-Generates cash flow to your festival
-Many vendors only accept cash!
-Many attendees only have credit cards on hand
-Conveniently located at the festival site
-Profit-sharing options available
-Our ATM machines are brand new
-ATM branding and ATM sponsorship options are available
ATM Features:
-Large 7in LCD display for easy reading
-Upgraded double capacity cassette decreases ATM downtime
-Optional 15ft ATM sign for greater visibility
-Can be powered by a standard generator
-Uses a 110v outlet